Auradon Prep is an institution that appears in the Television Movies Descendants, Descendants 2, and Descendants 3. It is where the descendants of Disney's most well-known Heroes and Villains attend.
Known Faculty
History
Welcome to Auradon Prep... "Where Legends are Made!"
- Ben in the Descendants (mobile game)
The castle was built over 300 years before the Isle of the Lost kids arrived at Auradon. It just so happened to be Beast's old castle which was re-purposed into a school when he became king. Fairy Godmother was appointed headmistress, following the opening of the school.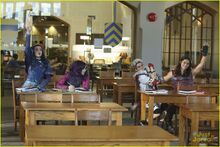 Locations (based on the game and film)
School Entrance
This is where the morphing statue of King Beast can be found, situated right before the school proper. It is meant to symbolize that "anything is possible".
Lockers
This is located outside, where students can sit on tables and talk in between classes. In the game, it grants access to the Cafeteria, the Student Lounge, and the Auditorium.
Hallway
The Hallway is where students will find their classes. The Chemistry Lab, Remedial Goodness classroom, and, in the game, the Library can all be found here.
Athletics Area
Also located outside, the Athletics Area is where students can do their athletic activities. Here, one can find the Tourney field, access to the Forest, and, in the game, the Fitness Center.
The Tourney Field is where Tourney games are held, and where Tourney jocks, cheerleaders, and band members train and practice.
Carnival Grounds
Exclusive to the game and the Wicked World web-series, here, one can find Mal's Do it Your Self-ie tent where she creates villainous portraits.
Cafeteria
Seen in Descendants: Wicked World. This is the room where students eat luxury food as fruit shaped like little animals, a chocolate fountain, cupcakes, and cranberry sauce.
Trivia
Despite being a boarding school, many of the heroes' home castles are located near the school.
The building used was Hatley Park National Historic Site, in British Columbia.
There is a statue of King Beast, which responds to only Ben and shapeshifts between human and beast to represent "anything is possible". As Ben is Beast's son this selectiveness of its shapeshifting ability is understandable.
The school has an acapella music club.
In the Escape from the Isle of the Lost: A Descendants Novel, most of the main characters graduate from the school as they are seniors, Carlos and Jane didn't graduate as they are juniors.

Even though it is stated in the book that Audrey graduated with the other seniors, it is revealed in Descendants 3 that she has summer school.
Gallery
Community content is available under
CC-BY-SA
unless otherwise noted.