Dude Shor (go down to trivia) is a dog that appears in the films: Descendants, Descendants 2, and Descendants 3. He's Auradon Prep's campus mutt and later on, a close friend of Carlos. He is voiced by Bobby Moynihan in Descendants 2 and Descendants 3.
Roles
Films
Dude first appeared during the scene where Ben was training Carlos with sprints. The dog was running behind Carlos until Carlos climbed up a tree since Carlos' mother, Cruella De Vil taught him to be cynophobic his whole life. When Ben handed Dude to Carlos, the two began to bond throughout the movie.
During the video chat with the evil parents. Cruella De Vil is surprised to see Carlos with him. She says he would make perfect earmuffs but Carlos stood up for himself and tells his mother that they love each other.
In Descendants 2, Dude gets the ability to talk due to eating the truth gummy Mal made for Carlos. He followed Carlos to the Isle of the Lost. He even gave Carlos great advice to finally talk to Jane.
Dude appears where he calls for Carlos about Jane's birthday but Carlos was helping his friends in stopping Audrey by getting Hades' blue ember. When Gil asks Carlos if Dude does have children, whether his children are able to talk, Dude laughs at it. After he laughs at it, he goes to Celia to get petted. He later dances when the two villain groups work together to defeat Audrey's enchanted knight armor. And later at the end, he is seen with Carlos at Mal and Ben's engagement party. While Jane is nervous about meeting Carlos's mother, Dude reminds her that she is Cruella De Vil and he is petrified.
Trivia
The dog who portrayed Dude was a female dog named Paisley.
According to Dude, he flunked obedience class.
Ironically even though he doesn't talk in the original film, he talks in the sequel and the third movie.
His middle name is Shor.
Fans have speculated that he might be the offspring of Dodger from the 1988 film Oliver & Company.
Dude is a Brussels Griffin.
v - e -

d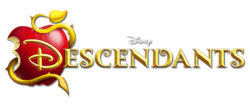 School of Secrets
Anxelin