Queen Leah is the mother of Aurora, the mother-in-law of Prince Phillip, the wife of King Stefan, and she is the main maternal grandmother of Princess Audrey.
She is portrayed by Judith Maxie.
Before Auradon
Queen Leah and her husband King Stefan are the monarchs of an unnamed kingdom. After many years of marriage, she gives birth to a beautiful baby daughter which she and her husband named her Aurora. Her happiness is shortened when Maleficent, who wasn't invited, curses her daughter. Devastated, she has to see her daughter taken away by the fairies in order to protect her. Sixteen years later she is waiting for the return of her daughter, but when Aurora touches the spindle, the Queen and the entire kingdom are put in a deep sleep by the Three Good Fairies. When Maleficent is defeated she awakens, and finally meets her daughter.
In Descendants, Ben, who is the Next King to take the throne, declares in his first proclamation that he will give a chance for four children from the Isle of the Lost to live and go to school in Auradon. The four are Carlos De Vil (son of Cruella De Vil), Jay (son of Jafar), Evie (daughter of the Evil Queen), and Mal (daughter of Maleficent). King Beast is reluctant to go with it because their parents committed evil schemes.
Queen Leah is first seen in the film during Family Day when she sees Mal and mistakes her for her mother. When Ben reminds Leah of his proclamation to give the new generation a chance, Leah causes a scene which she all but claims the children from the Isle of the Lost will destroy the residents of Auradon. She reminds the people of the trouble caused by their parents essentially undoing the progress that had been made. She also blames Mal's mother for making her miss Aurora's entire childhood. After the incident at Ben's coronation, she appears to have accepted the VKs as her granddaughter Audrey thanks Mal for saving them from her mother.
When Ben publicly proposes to Mal to everyone else's delight, Leah chastises Audrey for letting Ben slip away, commenting on how Aurora caught a prince in her sleep, which adds on to Audrey's fragile mental state and sends her over the edge. She additionally chastises Audrey for losing to Mal, clearly still bitter about the latter and her heritage. However, at the end of the film, Leah realizes how badly she has treated her granddaughter and Mal and apologizes to both of them for her misjudgment.
Trivia
v - e -

d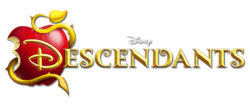 School of Secrets
Anxelin